Projet 2013-2017
Le Trio Fellini a été fondé en décembre 2013 et porte le nom du régisseur italien Federico Fellini, pour lequel le compositeur Nino Rota a composé la musique pour ses films. L'amour pour la musique de Nino Rota, (dont il existe un trio composé pour clarinette, violoncelle et piano) a été la raison pour le nom Trio Fellini. Katharina Weissenbacher et Dimitri Ashkenazy s'intéressent au jazz et se sont rencontrés en 2012 lors d'une représentation de Thomas Biasotto Big Band. Avec la pianiste Katia Braunschweiler est venue l'idée de former un trio et d'ouvrir l'horizon avec plusieurs styles de répertoire. Le trio Fellini travaille avec le compositeur suisse Daniel Schnyder et Jürg Hanselmann en étroite collaboration.
The Trio Fellini was founded in December 2013 and derives its name from the Italian film director Federico Fellini, for whom Nino Rota wrote numerous film scores. The love for Nino Rota (who wrote a Trio for clarinet, cello and piano) inspired the trio's name. The affinity for jazz between Katharina Weissenbacher and Dimitri Ashkenazy led to their acquaintance in 2012, both being soloists in the Thomas Biasotto Big Band. Together with pianist Katia Braunschweiler they formed a trio, expanding horizons of multiple styles in the musical repertoire. The Trio Fellini has collaborated with composers Daniel Schnyder and Jürg Hanselmann, the latter's composition written specifically for the Fellini Trio.
Das Trio Fellini wurde im Dezember 2013 gegründet und trägt den Namen des italienischen Filmemachers Federico Fellini, für dessen Filme der Komponist Nino Rota die Filmusik schrieb. Die Liebe zu den Filmen und insbesondere zu der Musik von Nino Rota, der auch ein Trio für die Besetzung Klarinette, Violoncello und Klavier komponiert hatte, war der Grund für die Namensfindung des Trio Fellini. Katharina Weissenbacher und Dimitri Ashkenazy interessieren sich auch besonders für Jazz und lernten sich im Dezember 2012 als Solisten mit der Thomas Biasotto Big Band kennen. Mit der Pianistin Katia Braunschweiler als Dritte im Bunde entstand die Idee, ein Trio zu gründen. Das Trio Fellini spielt die Musik von dem Schweizer Komponisten Daniel Schnyder und Jürg Hanselmann.
Photos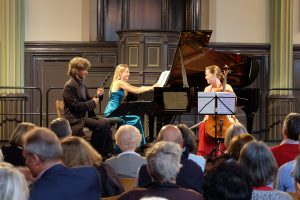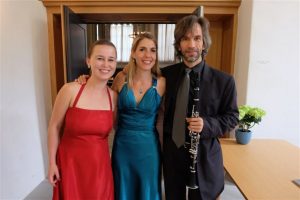 In Helferei, Zurich ( Switzerland) , June 2015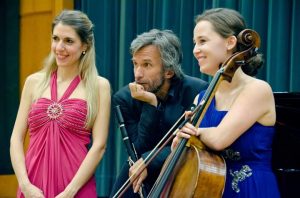 In Kindberg ( Austria), January 2016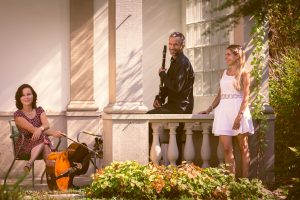 With Daniel Schnyder (above)  and Jürg Hanselmann (above)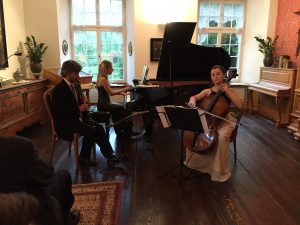 In Frauenfeld ( Switzerland), April 2016
Flyers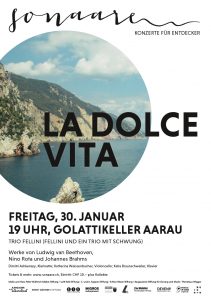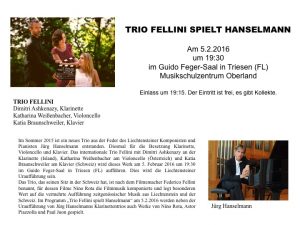 Video
Recorded in Liechtenstein, Live Recording, 5th of february 2016
Page turner: Jürg Hanselmann! 😉
Piazzolla, recorded in Liechtenstein, live recording:
Beethoven Trio op.11, 2nd movement, recorded in Winterthur in 2014:
Schubertiade Sion  March 2018:
Trio Federico: with Dimitri Ashkenazy and Joël Marosi
Trio avec Hyung Joo Won and Joël Marosi: